TRIFARI Alfred Philippe Ruby and Pave Diamante'Starflight Fireworks' Large Pin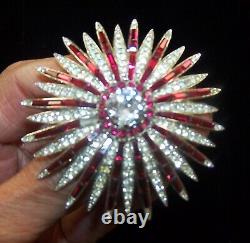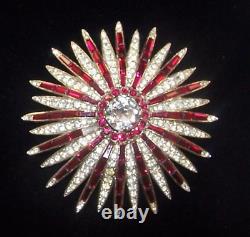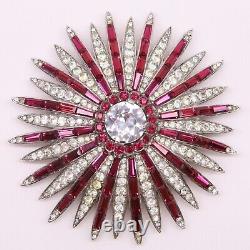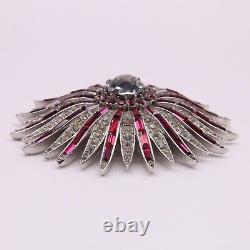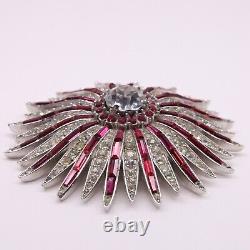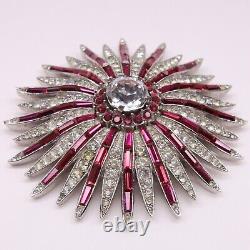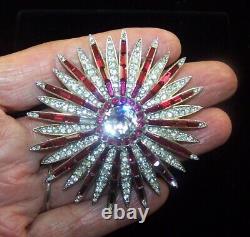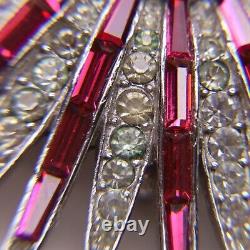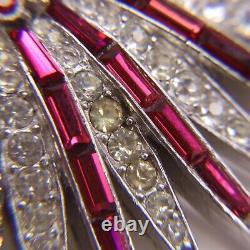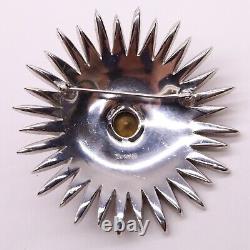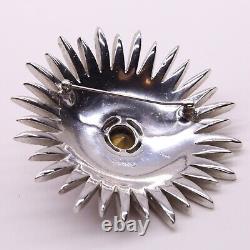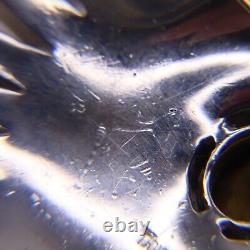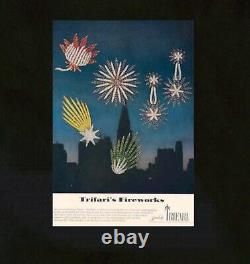 TRIFARI 1966'Starflight' series (also called'bursting rays' or shooting stars/comets) exquisite large pin. Features a layered clear rhinestone and ruby red pave center with a profusion of brilliant invisibly and channel-set ruby red baguette alternating with clear pave diamante rhinestone'rays'. Measures 2 3/8 in diameter. Very good to excellent vintage condition with a few yellowed pave rhinestones. Advertised with the tag line'Trifari's Fireworks', part of the'Starflight' series, 1966.
Book page references here can be found on page 43 of Judith Miller's'Costume Jewelry' and on page 211 of Christie Romero's'Warman's Jewelry, Identification and Price Guide'. Gustavo Trifari emigrated from Italy to the U. In 1904 and founded Trifari, NYC in 1910 after being a partner and jewelry designer with his uncle in Trifari & Trifari for several years. Gustavo's grandfather Luigi Trifari, a goldsmith, had a small workshop in Naples, Italy in the mid 1800s producing fine jewelry where Gustavo, working in his workshop, learned the jewelry trade. In 1917, Leo Krussman joined the Trifari Company as a sales director and later became a partner, leading to the forming of the Trifari and Krussman Company.
A third partner, Carl Fishel, an experienced and well known salesman also became a partner in the firm, in the early 1920s. The company again changed its name to Trifari, Krussman & Fishel. Trifari was considered one of the largest and best known producers of costume jewelry. It started producing hair ornaments, buckles, and bar pins in silver and base metals set with rhinestones and later manufactured, a broad range of costume jewelry creating superb designs and workmanship at different price levels. The Trifari jewelry produced had a distinctive look, resembling fine jewelry, which can easily be recognized by collectors.
Much of this is due to the work of a great designer, Alfred Philippe, who worked and designed jewelry for Trifari, for approximately 38 years, from 1930 to 1968, using high quality imported Swarovski rhinestones that were hand-set in the jewelry piece. Philippe worked as a designer of fine jewelry for Cartier and Van Cleef & Arpels, and brought to Trifari many imaginative ideas. He is largely responsible for the creation and development of Trifari's distinctive and classic look. Up until the 1960s, Trifari lead the world in the industry of costume jewelry producing the highest quality and styles from imaginative sterling vermeil figurals of the 1940's to its classic gold and silver-tone jewelry of today. The Trifari figurals, retro florals, and jelly-bellies from the 1930s and 1940s are sought after today by collectors.
The Trifari figurals, retro florals, and jelly-bellies from the 1930's and 1940's continue to be in high demand by collectors. 1988, Chase Capital Partners, Lattice Holding Division of the Monet Group 1994, and Liz Claiborne in July 2000 with production moved out of the U.

---