Rare Alfred Philippe Crown Trifari Lily flower Gold fuchsia crystal brooch 1950s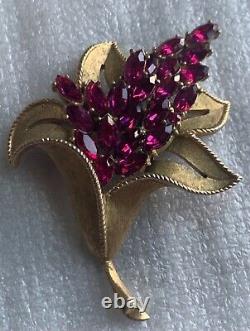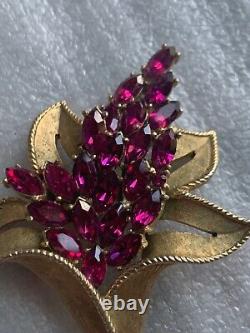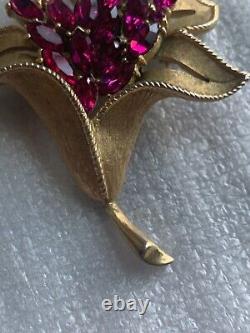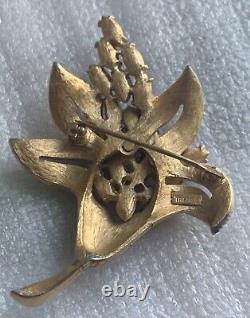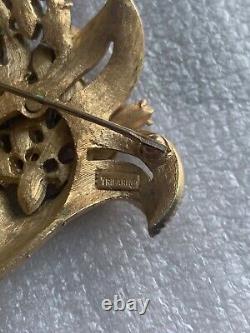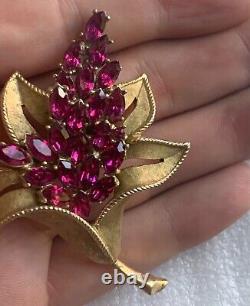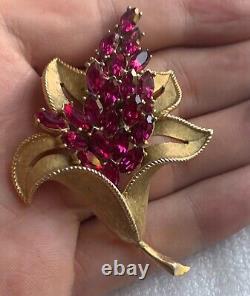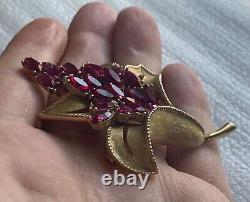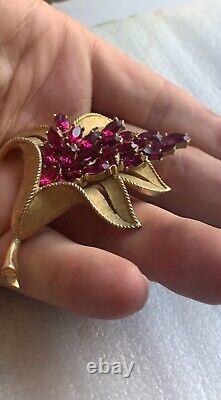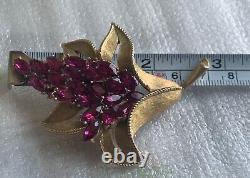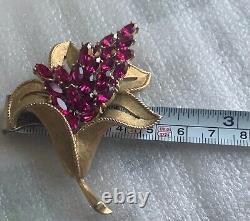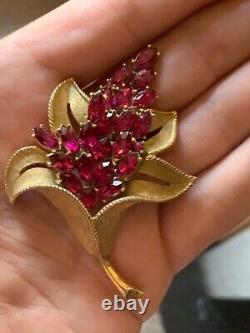 This is amazing hot pink/ fuchsia crystal rhinestones brooch circa 1950- 1960s Art Noveau. Very rare in this color, collectible. Photos are part of description. Pleace keep in mind that this brooch is over 60 years old! Materials: trifarium gold plated, fuchsia crystal rhinestones.
We don't clean or polish any vintage jewelry. We do not disturb vintage sterling items in order to keep their original patina, leaving it to your discretion. To that end, you may polish or keep them in the same condition. Please take a moment to carefully review all images included in the listing for condition and details.
If you have any further questions please feel free to ask! The beauty of Trifari jewelry. Appreciated for generations, the Trifari jewelry brand thanks to 20-year-old Italian immigrant Gustavo Trifari, who arrived at Ellis Island from Napoli in 1904.
Originally, their company had name "Trifari and Trifari", as it was founded by Gustavo Trifari and his uncle, in 1910. Then, his uncle left the company, and Gustavo renamed it to "Trifari".
Later such talented jewelers joined it. They were Leo Krussman (in 1917), and Carl Fishel (1925). The company changed its name to "Trifari, Krussman and Fishel" with the logo "kTf" (The capital letter "T" in the center reminded who was the founder and the main figure in the company).
Trifari Jewelry pieces from this era are extremely rare. The real success came to the company after 1930, when Trifari had hired Alfred Philippe, a head designer. Alfred Philippe was an experienced jewelry designer, who worked for such firms as Cartier and Van Cleef and Arples. Designs he created using hand-set stones won such acclaim that the partners become known as The Rhinestone Kings. Costume jewelry collectors and scholars have long been entranced by the fabulous designs that Alfred Philippe created for Trifari.
Fans of his designs may have imagined that the man matched his creations in elegance and style, in the mode of Yves Montand, for example. Philippe had come to Trifari from the world of fine jewelry, and brought this heightened sensibility to his costume jewelry designs. Trifari design credit should be given to the other talented designers - Jean Paris, Andre Boeuf, Diane Love who worked under Alfred Philippe.
Alfred Philippe worked at "Trifari" (in 1940's the company had this name again) for more than 30 years, until his retirement in 1968. Vintage Jewelry Designs he created have the style and glamour of fine jewelry and were very popular. In the 1960s Trifari offered bold, exotic shapes and gems, oversize baubles, and intricate, ethnic-inspired designs just what that customer wanted. At that time "Trifari" was run by Gustavo Trifari and his sons.

---