Rare 1958 Trifari Alfred Philippe Pastel Enamel Flower VTG Garden Party Necklace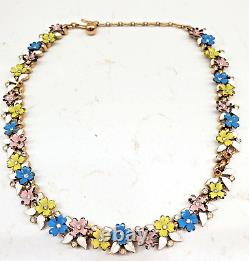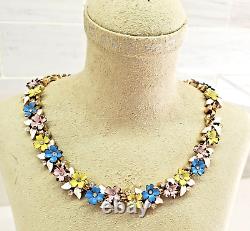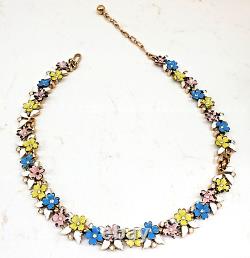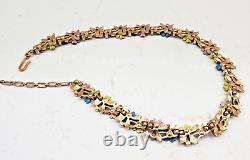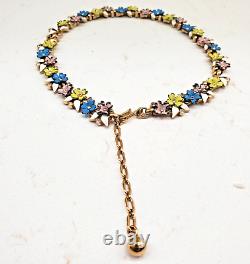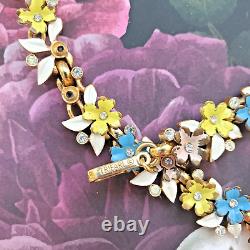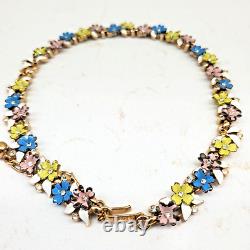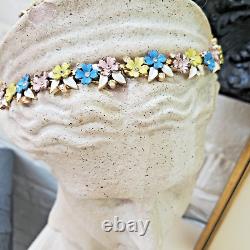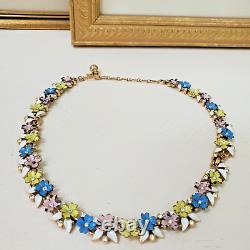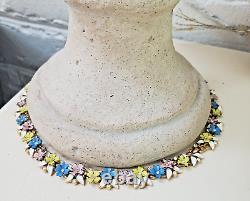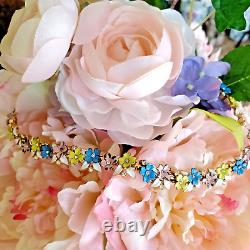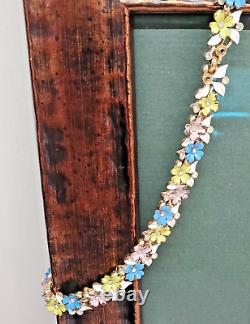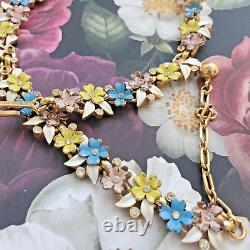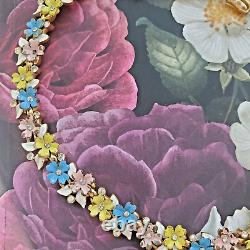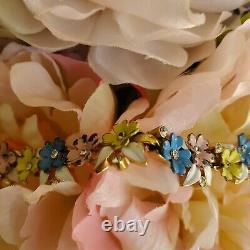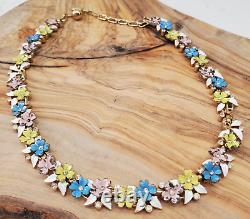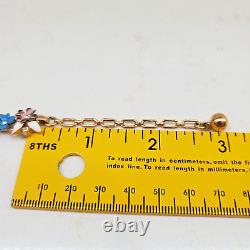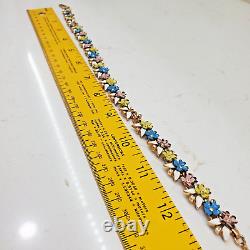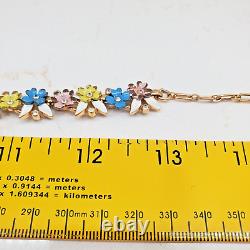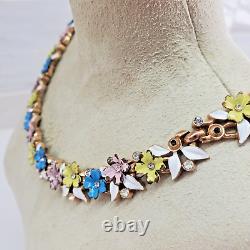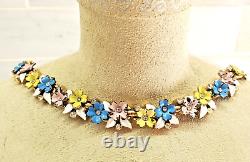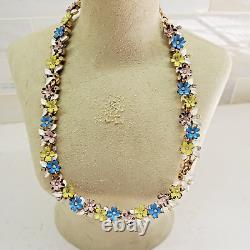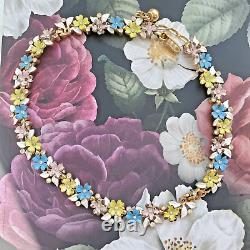 Rare Trifari Alfred Philippe Pastel Enamel Flower Parure 1955s Vintage Necklace. Vintage from the 1950's. Rhinestones, enamel, gold trifanium, 1955's. Real glamour from the 1950's USA style.
Necklace has some condition issues with missing rhinestones and some scratching or missing enamel in the edges along the flowers where I estimate it is more than original. Ball and chain extender on the other end. About 12 inches of flowers, about half-inch hook clasp, about 2.75 inch chain and ball entender/clasp insert chain. Pastel: blue, pink, yellow with white leaves. The sweet pastel colors of the enamel flowers and leaves, with gold plated and rhinestone trim.
The flower set is an arrangement created by Alfred Philippe in 1955. It is a romantic follow one another of pastel colors, enamel small flowers in tones of lemon yellow, baby pink, and cornflower blue. Among the white leaves and at the center of the flowers are small rhinestones. Some tiny rhinestones are missing: 1 in a pink flower by the hook, 1 in a trio of white leaves, another missing rhinestone in a pink flower, another missing rhinestone in a 2nd trio of white leaves, and a final tiny missing rhinestone near a yellow flower. The flowers were meant to have their edges in gold to simulate flower movement and foldover of petals; however some enameling may be missing in these areas.
J hook clasp into a chain with ball end. Total necklace length is 16 inches. Condition is good with flaws. All components are not in tact, referencing the missing rhinestones and wear to the enameling. Reverse gold tone is in very good to excellent condition, showing no wear or tarnish.
Mama wore the hell out of this amazingly beautiful necklace. She enjoyed the parties, the dancing, the fun of life and left this jewelry with a story that says, I have great taste but even more fun! If you are aiming for perfection, this isn't the necklace for you.
If you want an heirloom piece that has seen fun and is ready to quietly and elegantly show off your own classical taste in vintage, chic, designer costume pieces, this might fit the bill. Take a good look thru the photos and feel free to ask for more. It's a story of real life and real taste.
Frankly, no one had the gall to ask about any missing stones in her day. Similar bracelet also available, but with green leaves instead of white, also in the store: Artemis Teal. Artemis Teal is a woman-owned, US Veteran Owned, Small business. We work out of our home and offer items that are curated, unique, and unusually beautiful. Artemis is the name of the company because we are led by a Goddess who hunts for treasures.
It takes us takes time to find these gems, time to clean and research them, and time to list them for sale. We work hard to make a living, to make life worth living, and to help make your home a beautiful place. Because where you live should be as beautiful and interesting as you are.

---