1940's Crown Trifari ALFRED PHILIPPE Navy BLUE Glass Flower Wheelbarrow BROOCH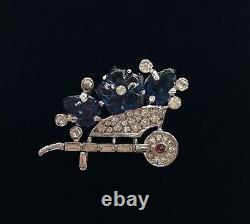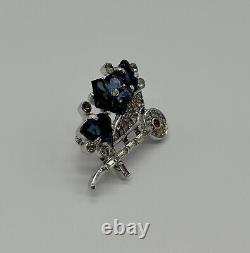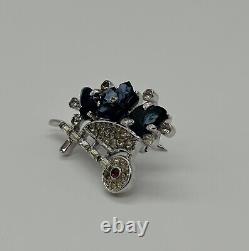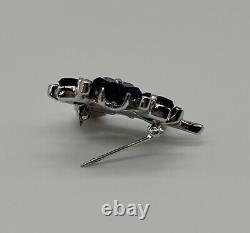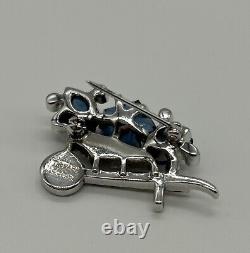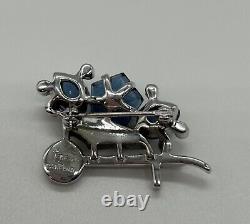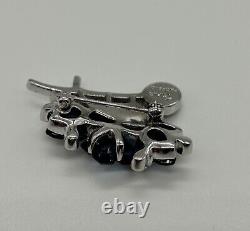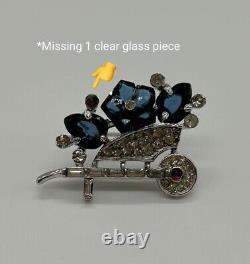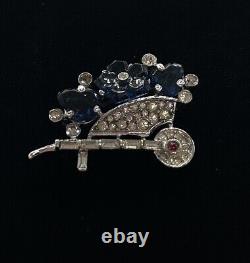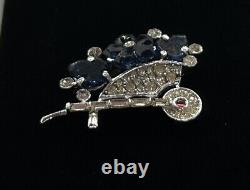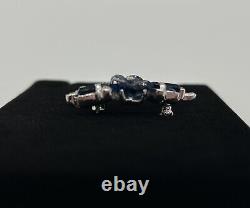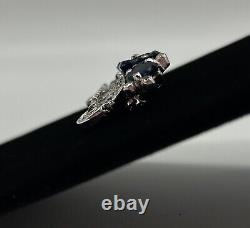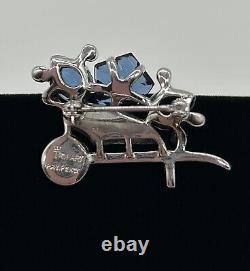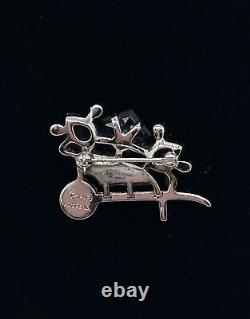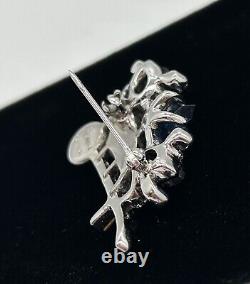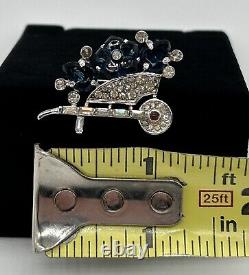 Signed Crown Trifari Alfred Philippe Wheelbarrow Brooch. Rarity of Item: Difficult to find. Color: Navy Blue, Clear, Silver Tone.
Type: Brooch with Cabochons, Crystals, Silver Tone Metal. Condition: Good - Missing 1 round clear glass crystal (Top Left) and pictured within listing.
Thank you for viewing and shopping my store. I truly appreciate your business and interest. I typically respond to messages within 24 hours. My online store lists items that are mostly pre-owned. Pre-owned, handmade, vintage, and antique items may include usual wear such as scratches and some manufacturing/production defects. This type of wear will be made viewable within the listing photos. All items are inspected carefully and stored in protective containers or shelving areas. A large quantity of time is spent researching items using books, online tools, and through field experts. Descriptions are made as accurate as possible.
Some vintage and antique items are rare or hard to find and there may not be much information available. If you find that an item has been listed with information that may not be accurate, please feel free to contact me. The majority of photos within each listing are taken by me personally, unless specified within the item description. Website stock photos may be used to provide examples of usage.
There are a variety of styles of photos that have been taken. As with many photos, colors may not be exact, but I try to ensure the lighting provides as true to color as possible. Recycled materials will be used to package items.
Some recycled boxes may be turned inside out. Recycled boxes may have been previously used for food, pets, and other items.
At times, boxes may be reconstructed due to no availability of a certain sized box. Recycled newspaper, tissue paper, paper towels, pieces of cardboard, packing peanuts or other Styrofoam packing materials, plastic air bag packing, plastic bags, paper bags, and other items may be used to package items.
I take great care in packaging each item. Must hold onto the item AND provide information. Required Information for the Damaged Item. Pictures of the original packaging in which the item arrived e. Pictures showing multiple views of the damaged item e.
Pictures of the front side of the item, back side of the item, etc. A summary description of the damage.
The box was damaged when it was delivered to my home. The box was crushed/torn/wet, etc. And when I opened the box, I found that the item was cracked.
I will also assist in tracking the package and providing notifications to you.

---